We have tried to keep as similar to the original as possible, main features are being able to select alternate timeframes for it to be calculated on as well as displaying divergences.
We have created a highlighted zone for when price enters the overbought/sold territory. A lot of traders will look for crossovers happening in these areas however from our tests we have discovered entering trades as the Stochastic comes out of these areas has hugely reduced losing trades, still not a perfect strategy but it does often show that the trend is showing weakening momentum and its commonly followed by a period of sideways action before continuing in a new direction.
A Trade idea we like to use is after the Stochastic spends some time in the oversold/bought area, we use the Triple bands and TD Sequential or Trend dots as confirmation. See below an example of a long trade.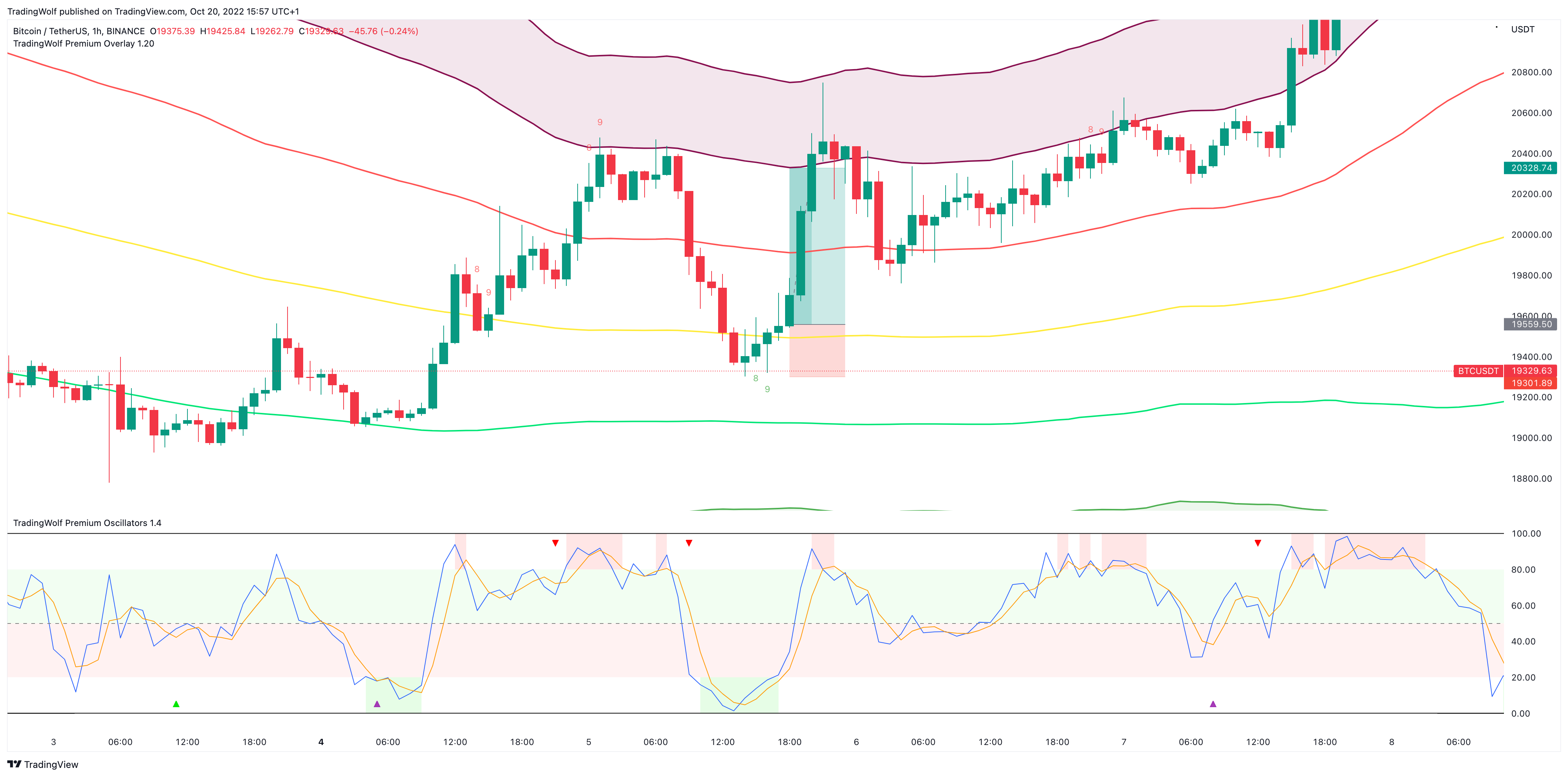 We have the Stochastic in an oversold area, TD sequential reversal and price moving above the Middle line. This trade was a simple 3:1 reward:risk ratio but you can catch much bigger moves than this.
As mentioned above, you have the ability to detect divergences on the stochastic, for Crypto markets there tends to be triple divergences given on the Stochastic before a confirmation so we always recommend you use other methods of confluence.
Configuration​
You have the ability to change all the Stochastic lengths, including its source.
Display​
You can change the colours of the stochastic K & D lines along with the Over bought and sold zone fills.
Alerts​
To set an alert, toggle the alert button in the Stochastic section of the settings, you will notice you have a few options:
Entering OB/OS Zone
Exiting OB/OS Zone
Divergence
You can also adjust the frequency the alerts are sent, we recommend using 'once per bar close' for these alerts. You may want to test the 'Exiting' option on once per bar so you can be on your chart ready for the confirmation but this will depend on your trading style.